Business Continuity & Disaster Recovery Solution for Regional Insurance Company
Posted June 14, 2022 by Sayers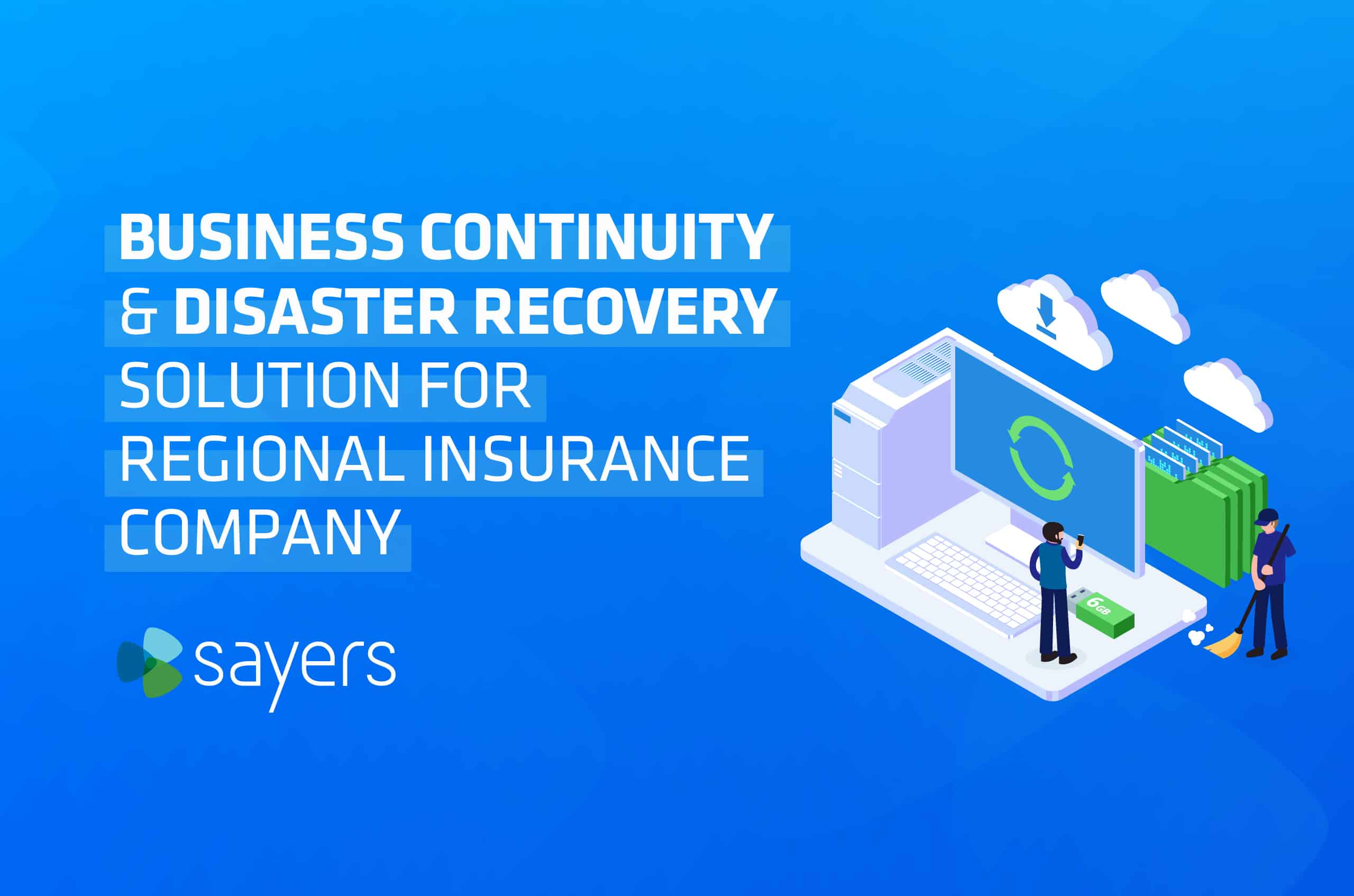 Overview
A Regional P&C Insurance Company based in Harrisburg, Pennsylvania, is the niche property and casualty insurer that brings stability to multifamily housing. The carrier currently insures commercial establishments including apartment buildings, office buildings, and shopping centers in Pennsylvania, Delaware, Maryland, North Carolina, Ohio, Virginia, and Washington, D.C., through a network of independent agents.
The P&C Company initially contacted Sayers through Sayers.com, which resulted in a Business Continuity workshop for the new client. The engagement and assessment led to a five-phase Business Continuity and Disaster Recovery solution.
Sayers designed the multi-vendor solution to protect against potential outages caused by ransomware, natural disasters, and human error, while enabling rapid recovery with minimal data loss.
SOLUTION HIGHLIGHTS
Five-phased approach to improve storage security, backup, and recovery
Integrated multi-vendor offerings incorporate automation and orchestration
Nearly 92% reduction in recovery time objective (RTO) and 96% reduction in recovery point objective (RPO)
Challenge
Business Continuity Assessment Reveals Multiple Infrastructure Vulnerabilities
After finding substantial value and actionable insights from the Business Continuity workshop, the Regional P&C Insurance Company engaged Sayers to perform an infrastructure and Business Impact Analysis (BIA) to identify potential vulnerabilities in their infrastructure and risks to their business. The Insurance Company wanted to protect its operations from business disruptions, including outages and ransomware, and ensure continuous service for its insureds and network of independent agents.
In addition to highlighting specific vulnerabilities, the assessment indicated the client's existing architecture enabled a Recovery Point Objective (RPO) of 24 hours (age of backup data for recovery) and a Recovery Time Objective (RTO) of 96 hours (time to restore processes and data after an outage).
Other areas of concern included:
The existing storage solution had reached near-maximum capacity and was nearing its end of support
The age of the existing solution made a storage migration unavoidable
Tape-based backups created a performance bottleneck instead of quick data recovery
Disaster Recovery processes were manual and time-consuming
Performing a Disaster Recovery failover required lengthy travel and staging times
Project Effectiveness Takeaways
Solicit input. Sayers interviewed employees across business units and hierarchy levels at the Insurance Company to determine infrastructure needs, as well as the IT team's comfort levels with various technologies and vendors.
Establish trust. Sayers and the Regional P&C Insurance Company established a solid level of trust early on, with the company knowing Sayers was looking out for their best interests.
Promote accessibility. Accessibility and communications between Sayers and the client flowed as a two-way street throughout the project's multiple phases. The Sayers team performed almost like an extension of the IT team at the Insurance Company throughout the project's five phases.
Solution
Multi-phase Solution Addresses Disaster Recovery and Production Needs
Based on Sayers's experience with multiple vendors, and interviews conducted with members of the client's IT team and C-level executives, Sayers proposed a five-phase, multi-vendor solution to be implemented over several months during the 2020-2021 time. Sayers updated the client's architecture at multiple locations including the Company's headquarters and colocation facility in North Carolina.
"During the early phase of the project, we established a comprehensive understanding of the Regional P&C Insurance Company's requirements and were able to present multiple technology options based on what best fit their needs. Because of our approach, Sayers became a trusted advisor for the client and was granted more latitude as the project progressed."

Ben Gale, account executive at Sayers.
In addition to the technology solutions, Sayers also included several support agreements to ensure the continued success of all implemented technologies. The Insurance Company now has access to additional engineering experts that proactively support their environment
As part of the Business Continuity solution, Sayers completed phases one through four, with phase five slated for 2022.
Phase 1: Transition the client's storage solutions to provide capacity for current needs and predicted growth, ensure active support, and lay the foundation for faster Disaster Recovery.
Phase 2: Deploy new backup and recovery software, servers, and application management for a cloud storage solution that reduces RPO and minimizes data loss.
Phase 3: Incorporate additional storage at a secondary Disaster Recovery site, using snapshot replication to further reduce RPO and RTO. Built-in failover and failback features, manage replicated data and eliminate the need for travel and staging times. Disaster Recovery testing can now be done without impacting the production environment.
Phase 4: Eliminate legacy storage and incorporate faster data offloading to a new backup repository with immutable storage. This provides ransomware protection and further reduces the RTO.
Phase 5: Automate and orchestrate disaster recovery to remove manual processes, simplify response, governance, and testing and reduce RTO.
Results
New Backup and Recovery Solution Improves RTO / RPO Performance
The new architecture Sayers put in place, including new hardware, software, and network topology gives the P&C Insurance Company the confidence in knowing if an outage situation occurs, the company can recover quickly and smoothly.
"The new backup solutions we implemented as part of the updated Disaster Recovery processes had a huge impact on reducing the RTO and RPO numbers – down to eight hours and one hour, respectively," says Gale. "In the process, we've established Sayers as a trusted, go-to advisor who can provide subject-matter expertise to the client whenever they need us."
As a result of this Business Continuity project, discussions are underway with the Regional P&C Insurance Company in cybersecurity areas where Sayers can provide additional guidance and technical expertise.