The Cloud Journey Brings a New Role to the IT Team
Posted August 10, 2021 by Sayers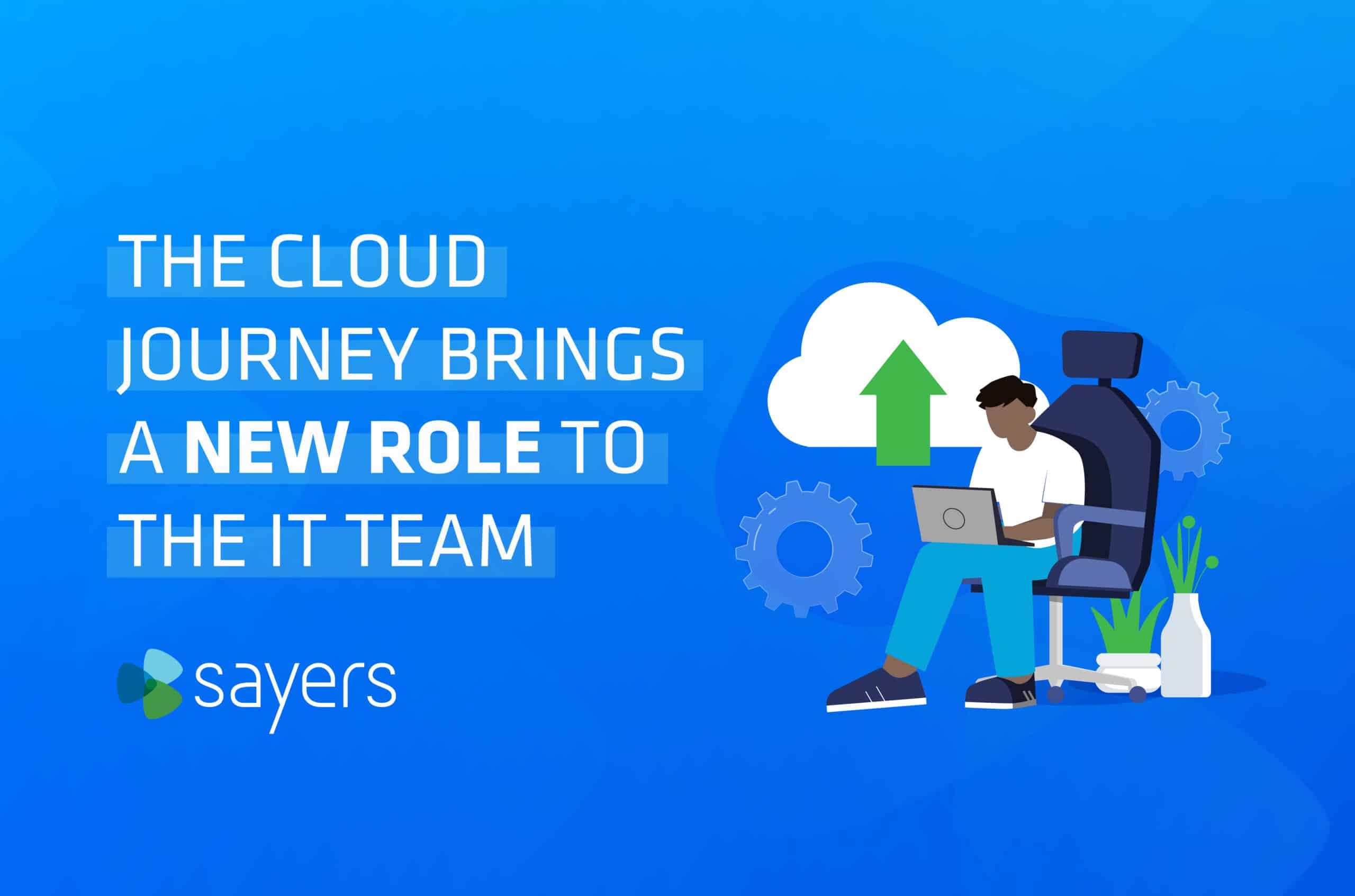 How to Do it Right: The IT Cloud Role
The decision to move some or more of your organization to the cloud goes beyond just spinning up and delivering applications for the enterprise. At Sayers, we also view cloud adoption as a primary part of evolving your IT team from just an expense item into the critical role of a IT Cloud service provider for your business. That can often include the creation of one or many IT Cloud Roles.
In that service provider IT Cloud role, your team plans workloads based on business requirements and better positions your organization to enter new markets and bring more or new services to your end customers.
Cloud First, Not Cloud Only
Moving to the cloud doesn't have to be an all-or-nothing endeavor. According to Gartner, by 2025, 85% of enterprises will have a cloud-first principle that integrates cloud and edge delivery options along with on-premise and co-location alternatives.
"Cloud-first doesn't mean cloud-only, it means you're going to be looking at that Software as a Service (SaaS) and other applications born and built for the public cloud rather than an on-prem, physical asset to run your application."

Bob Livingstone, Director of Cloud Engineering at Sayers
The role of the traditional data center isn't going away, just evolving. Some types of applications and workloads are more economically efficient there. But two key trends are driving the shift of more IT spending toward public cloud computing:
Containerization: Applications developed or run in isolated environments, or containers, and using the same shared operating system can more easily migrate to the cloud. Gartner predicts by 2025, 85% of organizations will run applications and containers in production, up from less than 30% in 2020.
Virtual Desktop Infrastructure (VDI): Virtual desktops delivered as a service in the cloud have helped enterprises keep pace with the rise of remote working, which received a huge push from the COVID-19 pandemic. Gartner predicts by 2023, 20% of 2019 on-premise VDI users will access a workspace in the cloud using Desktop as a Service.
As cloud providers, SaaS offerings, edge services, and the Internet of Things continue to proliferate, a hybrid data center topology becomes the new norm. Your IT staff's skills have to continue to evolve with the right tools, resources, and market knowledge to keep up with more complexity and integration.
"Transformation isn't just about data center infrastructure," Livingstone says. "It's about transforming how infrastructure and operations teams become the service provider in a digitally distributed ecosystem."
In that ecosystem, partners are taking on important, collaborative roles with hyperscalers like Microsoft and their customers.
Evolving from Enterprise Agreement to Cloud Solution Provider Program
The demand for new skills will continue to increase with the move to the cloud. In response, Microsoft has developed a Cloud Solution Provider (CSP) program that enables partners in the Microsoft ecosystem to work with customers and help them on their cloud journey.
CSP partners directly manage the customer's entire Microsoft cloud customer lifecycle, while providing the same type of customer experience you would expect from having a Microsoft Enterprise Agreement in place. Partners can package their tools, products, and services, and combine them into one monthly or annual customer bill.
IT teams that shift an increasing number of workloads to the cloud are managing less hardware and infrastructure and more SaaS offerings. They can rely on a CSP partner to help identify and understand what's happening behind the scenes in that environment, so the IT team can focus on configuring the enterprise application and ensuring it scales properly.
7 Steps to Successful Cloud Adoption
Whether you're starting or continuing your cloud migration, you can make the process smoother and more successful by following a few important steps:
Develop and implement a cloud-first strategy. Again, this isn't a cloud-only strategy. When the business asks your IT team to bring an application into the enterprise, a cloud-first strategy will help you know which model is needed – cloud, on-premise, or hybrid.
Hire or promote a cloud architect role. You will have many technical decisions to make when you look at adopting the cloud. The cloud architect role helps involve the right decision-makers and moves things forward.
Reduce delays by including members across multiple teams. Avoid surprises or delays by involving relevant functions sooner rather than later. The cloud architect should bring together team members from areas including security, network, infrastructure, and development as part of a Cloud Center of Excellence so key players can provide valuable input.
Define integration strategies. As part of your cloud-first strategy, have a plan to provide connectivity between your data centers and public clouds. As with your overall strategy, have a clear understanding of your defined goals and involve representatives from multiple areas of expertise in those decisions.
Use assessments to understand current and future costs. Assess what you have, where those objects could go, and how much they're going to cost now as well as later. "I've seen projects where the customer has moved things up to the cloud and broke the budget within a few months," says Livingstone, "because they didn't understand what that would look like once they adopted the cloud."
Reassess your cloud strategy at least yearly. The cloud changes so much every day that there are constantly new or more cost-effective ways of adopting or deploying applications. As part of your cloud-first strategy, look at your environment and reassess at least once a year. A review should get easier each year as your teams become more comfortable identifying and understanding the workloads you have in the cloud.
Use your partners to your advantage. Microsoft Azure, for example, had 126 new function/feature updates just in one month. Large amounts of updates make it difficult for your internal IT team to timely and effectively manage those changes. "The odds are better with the partner side because we're working with many different clients and customers," says Livingstone. "We get to see a broad view of a lot of different types of businesses and applications."
Thanks to Bob Livingstone, Director of Cloud Engineering at Sayers, for his "So You're Thinking Cloud?" presentation from the Sayers #Curio Virtual Tech Summit. We've pulled the above highlights from his 22-minute presentation, now available free on-demand.
Want to know more? Contact us at Sayers today. We are a Microsoft Azure Gold and CSP partner who can answer your questions and help guide you in your cloud strategy.