Which Security Assessment Does Your Organization Need?
Posted July 14, 2023 by Sayers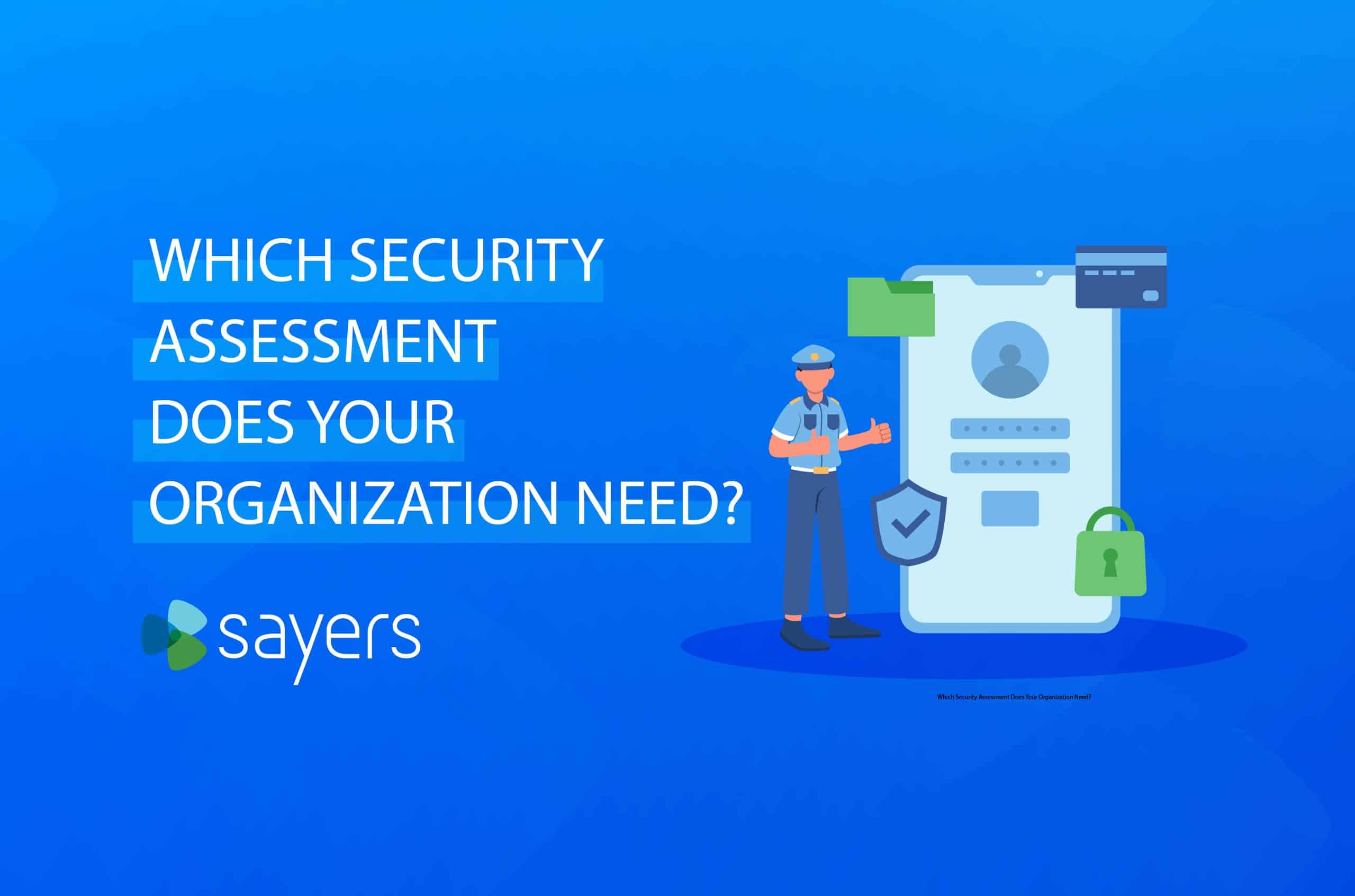 If your organization wants additional ways to proactively manage your cybersecurity risk, consider the variety of assessments available today.
Cybersecurity risk assessments help you identify and mitigate vulnerabilities and potential threats while aligning your cybersecurity posture to best practices. Many assessments focus on specific areas ranging from cloud, network, and data center security to business continuity and cyber insurance readiness.
Three new assessments now available from Sayers focus on data security, insider threat risk, and ransomware readiness. All three serve to help your organization:
Identify security risks and provide insights into potential threats and how to mitigate them.
Comply with data protection laws and industry regulations such as the European Union General Data Protection Regulation (GDPR) and the Health Insurance Portability and Accountability Act (HIPAA)
Reduce costs associated with data breaches, cyberattacks, ransomware, and regulatory fines.
Enhance customer trust in the organization's protection of customers' sensitive data.
What Is A Data Security Assessment?
This assessment evaluates your organization's information systems and processes to identify potential security risks, vulnerabilities, and threats to your data assets.
Through a series of stakeholder interviews, the assessment provides a nonintrusive and comprehensive review of your organization's data infrastructure, handling procedures, and other aspects of the data lifecycle, as well as related security policies.
Chris Glanden, Sayers Senior Security Architect, says:
"A data security assessment is the best way to prevent the repercussions of a data breach including lost revenue, operational costs, damage to reputation, legal and compliance penalties, and an increased risk of future breaches."
As you consider a data security assessment, keep in mind the following:
Why Is A Data Security Assessment Important?
This type of assessment gets in front of breaches by uncovering vulnerabilities such as rogue workflows, physical security risks, and gaps in training and compliance.
According to Verizon's 2023 Data Breach Investigations Report:
The data security assessment provides a remediation roadmap with specific steps to take to improve your organization's overall data security posture against such attacks. The roadmap serves as a quick reference guide and prioritizes recommended steps as short-term, intermediate, or long-term actions.
What Approach And Focus Areas Does This Data Security Assessment Use?
This assessment uses a maturity model that aligns with the structure and standards of industry frameworks including the National Institute of Standards and Technology (NIST) Cybersecurity Framework.
By taking a data lifecycle-oriented view of an organization's data security program, this assessment aligns with five major focus areas within the lifecycle of managing data security risks:
Identify and classify to improve organizational understanding.
Protect with relevant safeguards.
Detect data security vulnerabilities and events.
Respond appropriately to a detected incident.
Recover and improve to restore and increase resiliency.
Each focus area goes deeper into related subcomponents tied to the needs of the organization. For example, the "identify and classify" focus area uses specific interview questions to explore subcomponents including data types, compliance, third-party data integration, and cloud storage.
Based on interview responses, each subcomponent receives a maturity level score between one and five, with five meaning 100% maturity in that area. The average of all focus areas' maturity ratings determines the organization's overall maturity score.
A completed assessment report describes the organization's current state, provides recommended actions to improve, and suggests potential technology solutions for each data security focus area and subcomponent.
Insider Threats: A Growing Problem
An insider threat risk assessment evaluates the potential risks posed by employees, contractors, and other individuals who have authorized access to an organization's data, systems, or facilities.
In evaluating the need for an insider threat risk assessment, consider the following:
Why Is An Insider Threat Risk Assessment Important?
Industry surveys indicate insider threats are a growing problem, with an increase in such events year over year.
Cybersecurity Insiders 2023 Insider Threat Report found:
Work-from-home and hybrid work trends have increased organizations' concerns about vulnerability to insider threats, but few organizations have all the necessary controls in place.
Where Does An Insider Threat Risk Assessment Focus?
This people-focused assessment uses an approach similar to the data security assessment, interviewing stakeholders about relevant areas such as user access management and entitlement control.
As with the data security assessment, interview questions in each focus area explore further into relevant subcomponents. The assessment provides maturity level scores, recommended actions to mitigate risks such as policy improvements, and potential technology solutions to consider.
What Is A Ransomware Readiness Assessment?
This assessment evaluates how effective your organization's security controls and broader operational capabilities are in preventing, detecting, responding to, and recovering from a ransomware attack.
According to Verizon's 2023 Data Breach Investigations Report:
Aspects to consider about this type of assessment include:
What Are The Advantages Of A Ransomware Readiness Assessment?
Organizations that use this assessment gain benefits in three main areas:
Visibility into an organization's defensive controls and how vulnerable they are to the tactics, techniques, and procedures used by ransomware adversaries
Understanding of existing processes and controls where improvements can be made
Identification of specific improvements, provided with clear guidance and recommendations.
Where Does A Ransomware Readiness Assessment Focus?
Assessment of your organization's ransomware readiness posture explores four main focus areas:
Prevention assesses how well your business is using practices such as security awareness training, endpoint detection and response, email security, patch management, access control, network segmentation, and backup and recovery planning.
Detection evaluates the tools and processes you have in place to detect any movement of ransomware within your organization. Examples include security information and event management (SIEM), intrusion detection system, extended detection and response tools, and log analysis.
Response focuses on planning elements such as data backup and recovery, incident response, communication, forensics, and containment procedures.
Recovery assesses your restoration procedures, business continuity planning, post-incident reviews, lessons-learned process, and awareness training such as tabletop exercises, which circles back to prevention.
Similar to the data security and insider threat risk assessments, the ransomware readiness assessment includes interview questions in each focus area and provides maturity level scores, recommended actions for your organization, and suggested technology solutions.
Questions? Contact us at Sayers today to learn more about cybersecurity risk assessments for your business.