Top Cybersecurity Trends in Healthcare
Posted April 13, 2023 by Sayers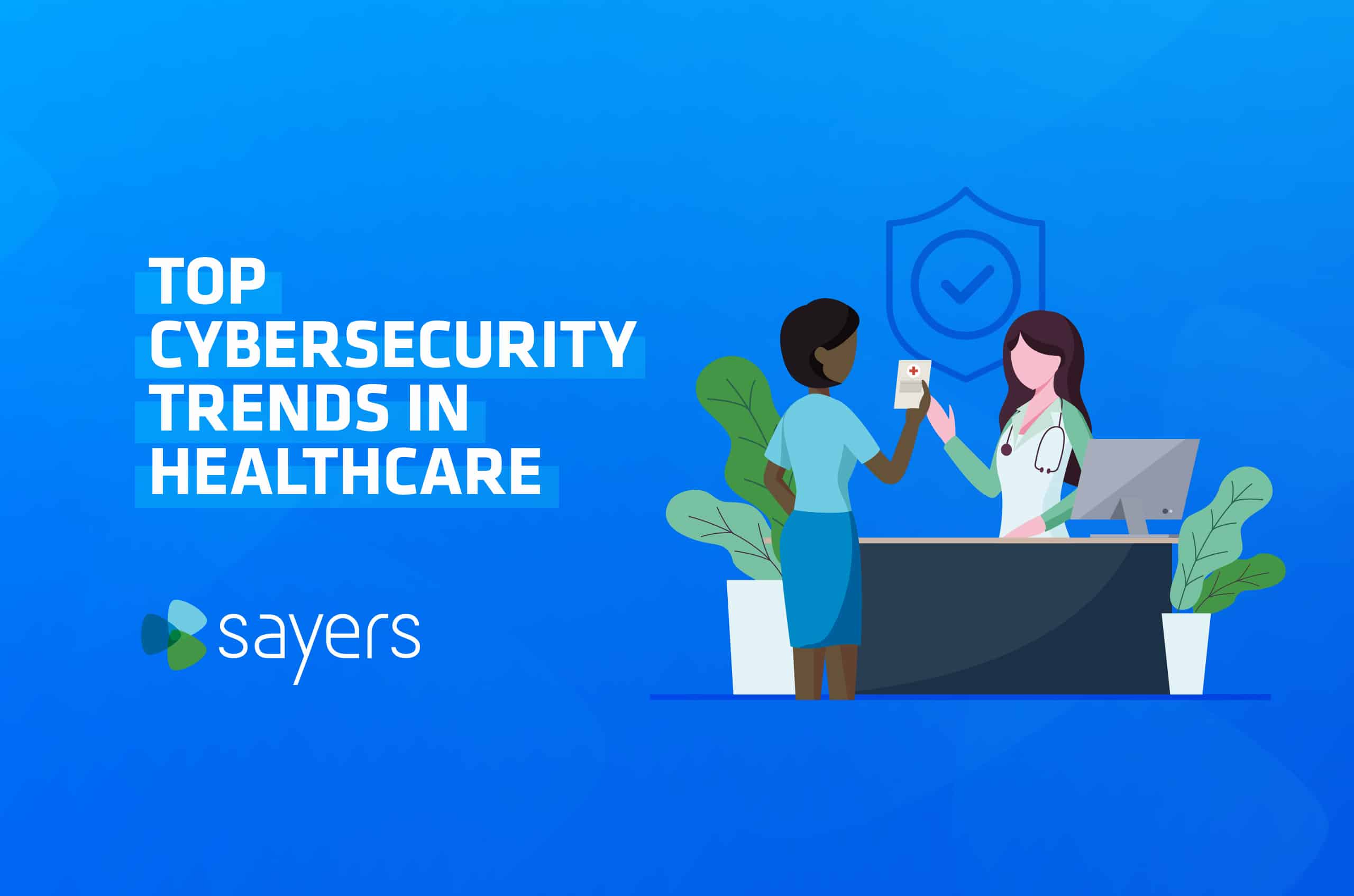 In today's age, where cybersecurity threats are becoming more sophisticated and persistent, it is crucial for healthcare organizations to ensure that they can continue to deliver patient care and protect their patients' data. Cybersecurity in healthcare encompasses more than just protecting sensitive information. It also includes preventing unauthorized access to information, ensuring the confidentiality and integrity of data, and maintaining the availability of systems and services. 
Overview of Healthcare Cybersecurity
In the healthcare industry, cybersecurity is an essential practice to protect critical systems and sensitive information from digital attacks. Cybersecurity measures are put in place to combat threats against networked systems and applications – whether coming from inside or outside an organization. It is important to have a strong and effective cybersecurity strategy with multiple layers of protection that addresses critical infrastructure, network, device and application security. A comprehensive cybersecurity program can help healthcare organizations identify threats, respond to incidents, and minimize the risk of data breaches. With cyber threats becoming more advanced, healthcare organizations must be proactive and stay vigilant.
Cybersecurity Challenges Faced by Healthcare Organizations
Healthcare organizations collect, store, and process substantial amounts of sensitive data, making them an attractive target for cybercriminals. Organizations must constantly mature their security practices to protect themselves from the latest advanced cyber threats. Their main challenges are to ensure the continuance of patient care, secure medical devices, networks, and data to prevent potential cybersecurity attacks and any potential sensitive data exposure. Below we have outlined some of the top cybersecurity challenging and disrupting trends healthcare organizations are facing.
Continuance of Digital Transformation
Ransomware and Extortion
Mergers and Acquisitions
Cloud Adoption
Skills Shortages
Telehealth/Telemedicine
Healthcare Workers Working From Home
Supply Chain Corruption Concerns
Explosion of Internet of Medical Things (IoMT)

Proprietary Hardware and Operating Systems

Increase in Sophistication

Ubiquitous location use (unmanaged networks)
Top Cybersecurity Solution Trends in Healthcare
Below we have briefly outlined some of the emerging areas in cybersecurity that healthcare organizations are adopting and integrating into their environments and roadmaps for 2023.
Identity Governance and Administration (IGA)
Customer Identity and Access Management (CIAM)
Cyber Asset and Attack Surface Management (CAASM)
External Attack Surface Management (EASM)
Third Party Risk Management
Secure Access Service Edge (SASE)
Zero Trust Architecture
Extensible Detection and Response (XDR)
Business Continuity (BC)/Disaster Recovery (DR) Program Development and Maturity
IoMT Monitoring, Patching and Micro Segmentation
Security Awareness Training
Encryption (In-Transit, at Rest, Data (Structured and Unstructured), Email, Endpoint, Cloud)
Cloud Security (CNAPP, CSPM, CWPP, CASB)
Professional Services / Managed Services (Especially Managed Detection and Response (MDR)) / Assessments / Staff Augmentation
Conclusion
In today's ever-evolving technological world, healthcare organizations face enormous challenges in maintaining adequate cybersecurity measures and implementing modern and emerging solutions. With new and more sophisticated threats arising each day, the resilience of ensuring and providing patient care is of paramount importance. We've only briefly described some of the top challenges and solutions healthcare clients are engaging on.  If you would like to learn more and go into depth in any of these areas, please reach out to us for a more engaging discussion.