The Enemy From Within: Insider Threats
Posted October 19, 2023 by Chris Glanden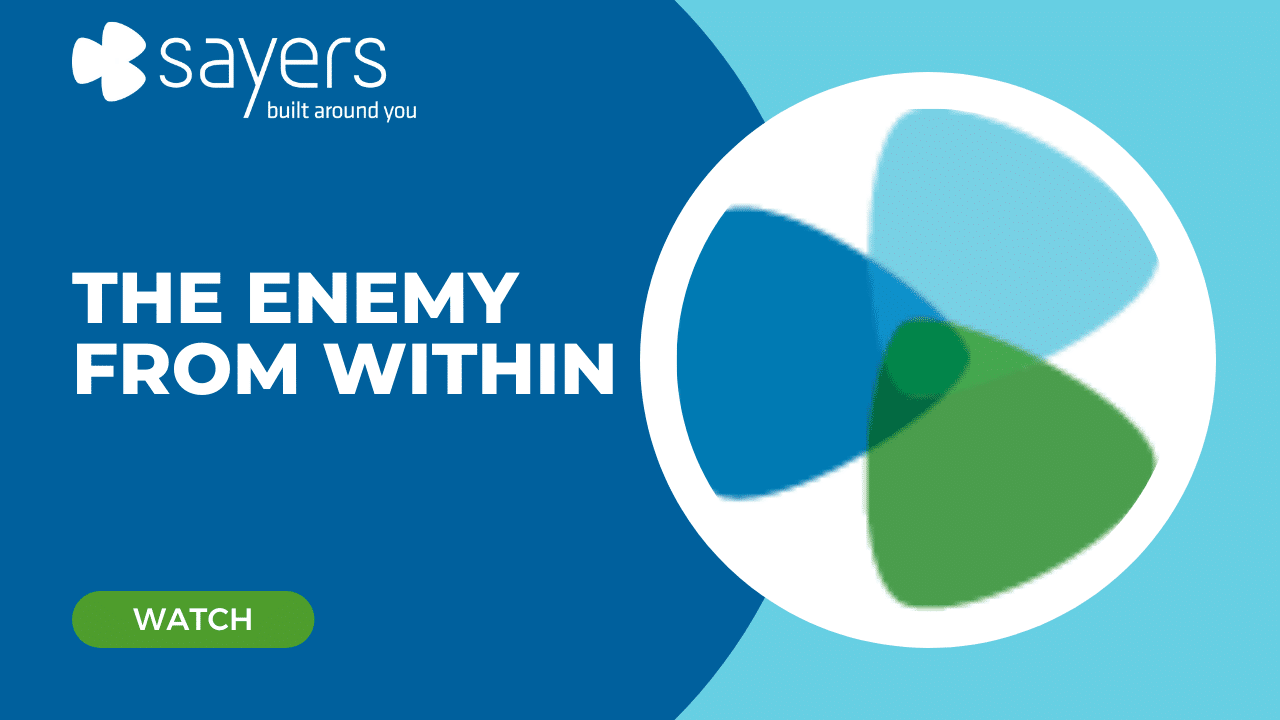 Hi, Everyone. I'm Chris Glanden, Senior Security Architect here at Sayers, and we are celebrating National Cybersecurity Awareness Month. For this week's video, I'll be discussing insider threats along with some tips on how to detect, prevent, and mitigate.
The Challenge of Insider Threats
Insider threats are a growing challenge for organizations. Studies show that insiders are responsible for a majority of security incidents with impact ranging from loss of revenue and intellectual property to damage of corporate reputation.
Most organizations feel highly vulnerable to insider threats yet lack comprehensive controls to detect and prevent them.

An Effective Insider Threat Program
An effective insider threat program is essential. To build an effective program, organizations must:
Know Their People
Conduct thorough and continuous personnel screening and evaluation. This provides visibility into employees, backgrounds, and any changes that may indicate insider risk.
Training and messaging are also key to setting expectations and building an insider threat aware culture.
Understand Behavior
Comprehensive user and data monitoring provides visibility into how insiders interact with systems and data. This enables early detection of suspicious activities as well as faster investigations.
Solutions like user activity monitoring, DLP and other UEBA capabilities are critical components.
Mitigate Risk
The ability to promptly respond to and remediate insider risks is essential for risk mitigation. This requires efficient workflows, trained investigators, and partnerships with HR and legal teams.
Proactive controls like access management and security policies further reduce risk.
A Holistic Insider Threat Management Program
A holistic insider threat management program integrates people, process and technology components into an ecosystem aligned with business objectives. With executive buy in it balances privacy and security considerations.
Important aspects include personnel assurance, data management, monitoring, access control, analysis, risk assessment, investigations, training, governance, and oversight.
Building an effective insider threat program is a constant, evolving process that requires persistent attention and refinement.
However, it enables organizations to proactively protect its most valuable assets, their people, information, facilities, and reputations.
With proper planning and resources, organizations can implement robust insider threat capabilities that reduce risk and support business objectives.
If you want to learn more about how you can protect your organization from insider threats, please contact us.