Sayers and Pure Storage Partner to Help Provide Better Patient Care
Posted November 4, 2022 by Sayers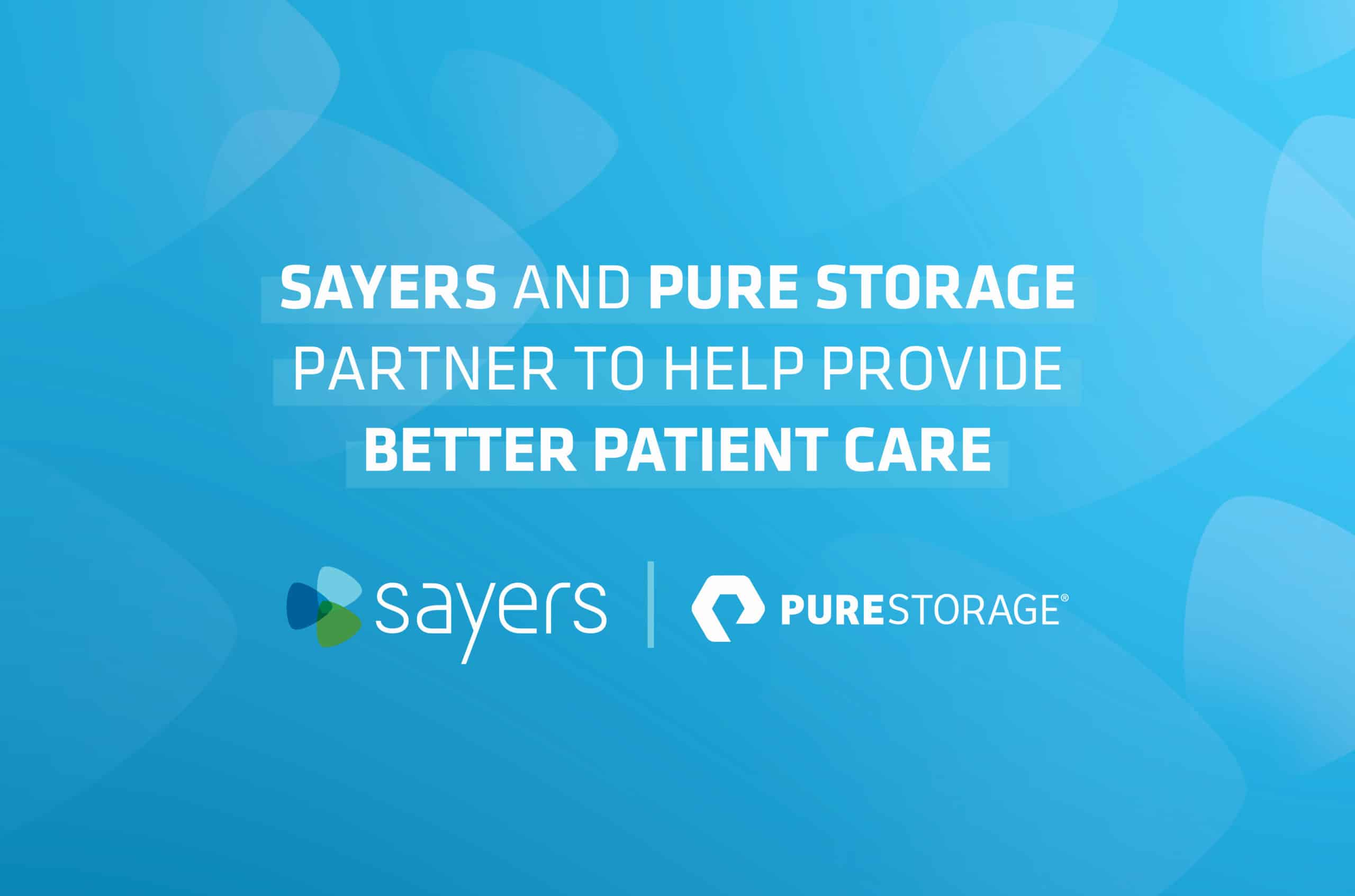 Overview
Pure Storage uncomplicates data storage and delivers a cloud experience that empowers every organization to get the most from their data – all while reducing the complexity and expense of managing the infrastructure behind it.
Pure's commitment to providing true storage as-a-service gives customers the agility to meet changing data needs at speed and scale, whether they are deploying traditional workloads, modern applications, containers, or more.
A large not-for-profit, integrated health system in the Midwest had been using storage solutions from multiple other vendors. Pure and Sayers teamed up to deliver a more cost-effective and easier-to-manage storage solution.
Meet Healthcare Data Storage Requirements With Cost-Effective Solution
Data generated by the healthcare industry has specific storage requirements, dependencies, and security needs while also being subject to compliance regulations. Healthcare systems are investing in technology for a range of reasons, including to increase cybersecurity, reduce maintenance costs, and ensure business continuity and disaster recovery.
"The customer put a lot of faith and trust into Gartner. He did his research and knew Pure was the safe bet in storage, especially given Pure's position in the Gartner Magic Quadrant with all-flash storage."

Matt Pundmann, Account Executive
All-Flash Storage Arrays With Evergreen Subscription Offer Lower TCO and Seamless Upgrades
The Pure and Sayers teams worked with the customer's storage manager to build a six-year Total Cost of Ownership, which showed a 52% savings compared to one incumbent and a compelling power consumption comparison between Pure and another competitor.
The customer's storage manager was able to take those messages to his leadership team, including results that the Pure Storage solution would have a smaller footprint, less power consumption, and be easier to manage.
"I can't underscore how important the TCO is, to not only provide it early but also walk them through it. When you can show them these numbers are real, where you're saving them millions of dollars over six years, it supports how great the technology is and how customer-friendly Evergreen is, too."

Matt Pundmann, Account Executive
As part of their solution-sizing exercises, the Pure and Sayers teams demonstrated FlashArray//X's on a production site and lower-cost FlashArray//C's on a secondary disaster recovery data center.
For their data storage and DR needs, the customer chose a FlashArray//X solution with Pure's Evergreen subscription that includes seamless hardware and software upgrades. "With Evergreen, customers don't have to re-buy storage capacity and deal with costly, time-consuming data migration projects," says Pundmann. "For the customer, it was a game changer for them to know they could buy an asset, continue to run it in their environment, and their environment will continue to get better over time."
The benefits of Pure's Evergreen subscription make it difficult for competitors to offset it with their own programs. "Evergreen is proven and battle tested," Pundmann says. "We have referenceable customers who started with the earliest FlashArrays, and we've refreshed those every three years. We modernize the platform around their data, never having to bring it offline."