Preparing for a Cyber Threat in Times of Unrest
Posted April 13, 2022 by Sayers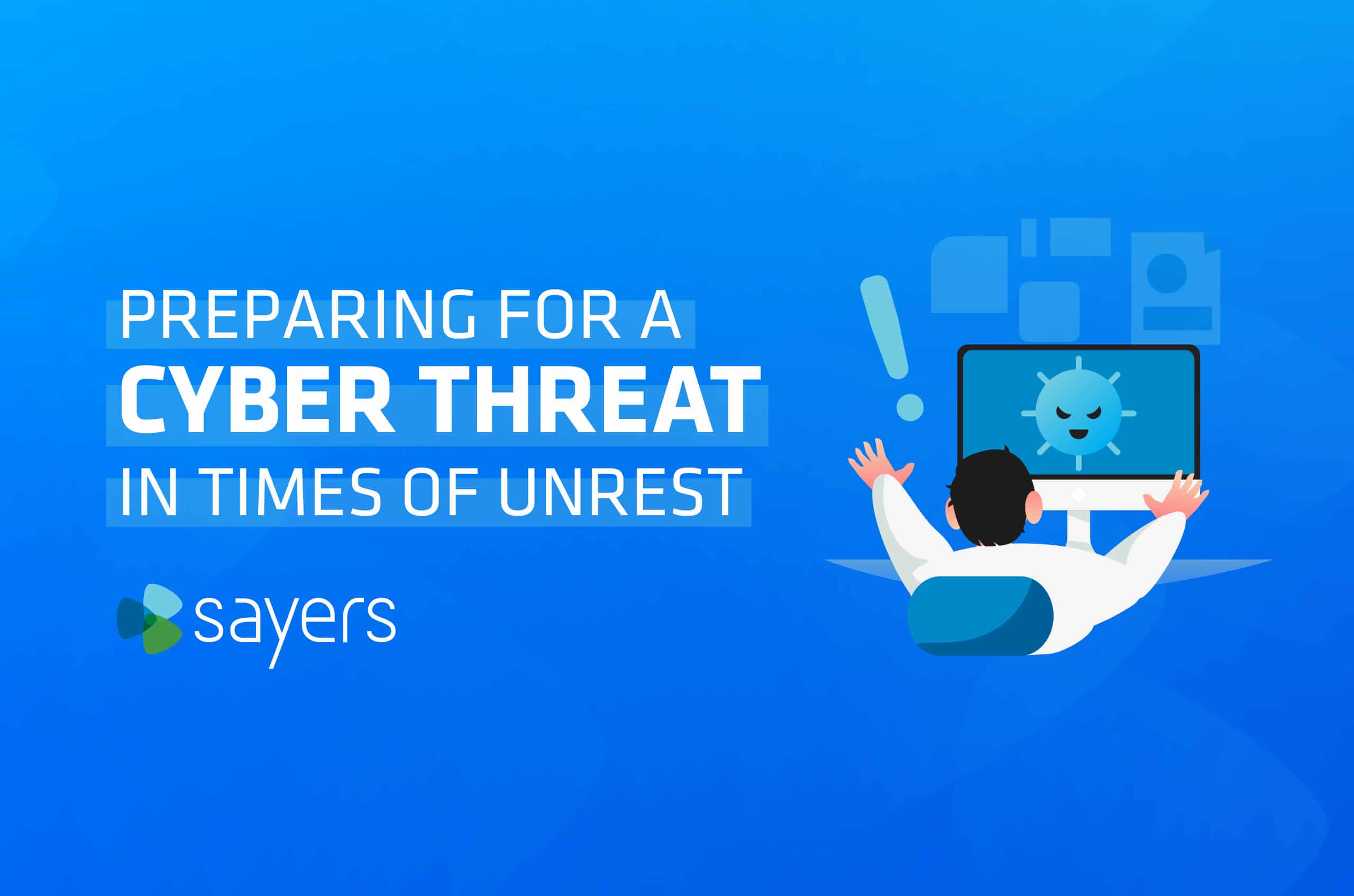 It's very difficult to predict where the next cyber attack may come from, and in what form. A cyber threat to critical infrastructures, financial systems, and transportation channels can cause immense damage to a population. The current media coverage of warring nations is a stark reminder to corporations and organizations that there has, and will continue to be, a persistent war in cyberspace. Just as there are military forces for land, sea, and air, it is now critically essential for nations and companies to build powerful defenses in the cyber sector.
The solutions offered by Sayers provide numerous avenues for proactive cyber protection. By implementing Managed Detection and Response (MDR) or Managed Security Service Providers (MSSPs), your company can proactively track and address unusual activity before it becomes a problem. Similarly, dark web monitoring persistently searches for existing instances of compromise, to mitigate risks before they escalate.
The Center for Internet Security (CIS) lists 18 critical security controls that every organization should have for effective cyber security. Yet, many organizations still do not have systems in place for patch management, asset management, remote browser isolation (RBI), and many other areas that fall vulnerable to cybercrime. With tools like Axonius Asset Management and immutable storage options, Sayers empowers companies to reduce the unnecessary crisis that accompanies a cyber security breach. Likewise, through CDNs (like CloudFlare and Imperva) and Attack Surface Management, Sayers can optimize resilience for servers to sustain a distributed denial-of-service (DDoS).
Cyber Threat Solutions That Go Beyond Your Building
As more and more employees are working from home, Sayers assists organizations in balancing worker productivity with internet safety, through solutions like Zero Trust Network Access (ZTNA) and Desktop as a Service (DaaS). And with phishing simulations and security awareness training, your employees and contractors can be equipped to understand and avoid the threats that lurk within email inboxes.
New Cyber Threats Require New Protections
One type of cyber attack that is becoming increasingly common is data wiping, wherein adversaries erase critical information and bulk content without warning or ransom. This type of damage can be devastating to an industry. Ensuring data wiping protection should not be a task for the distant future. Companies need to prioritize preventive protocols to manage administrative rights, harden systems, and flag business email compromise (BEC), as well as disaster recovery measures, such as Business Continuity and Disaster Recovery (BC/DR).
To remain effective, cybersecurity should remain in a state of perpetual update and scanning. This includes updating signatures and profiles for Endpoint Detection and Response (EDR), Extended Detection and Response (XDR), and other antivirus agents, as well as polling threat data multiple times a day through a next generation firewall (NGFW). Likewise, continuous testing of your organization's system, including tests like a Breach and Attack Simulation (BAS), will ensure that new vulnerabilities are being recognized in real-time.
Comprehensive Security, Today
Both technology tools and personnel training are paramount to creating a strong, stable cybersecurity plan.
Sayers understands the unique challenges associated with securing an organization in our modern technological climate.