Navigating Technology Obsolescence and Debt in the Enterprise
Posted November 2, 2023 by Sayers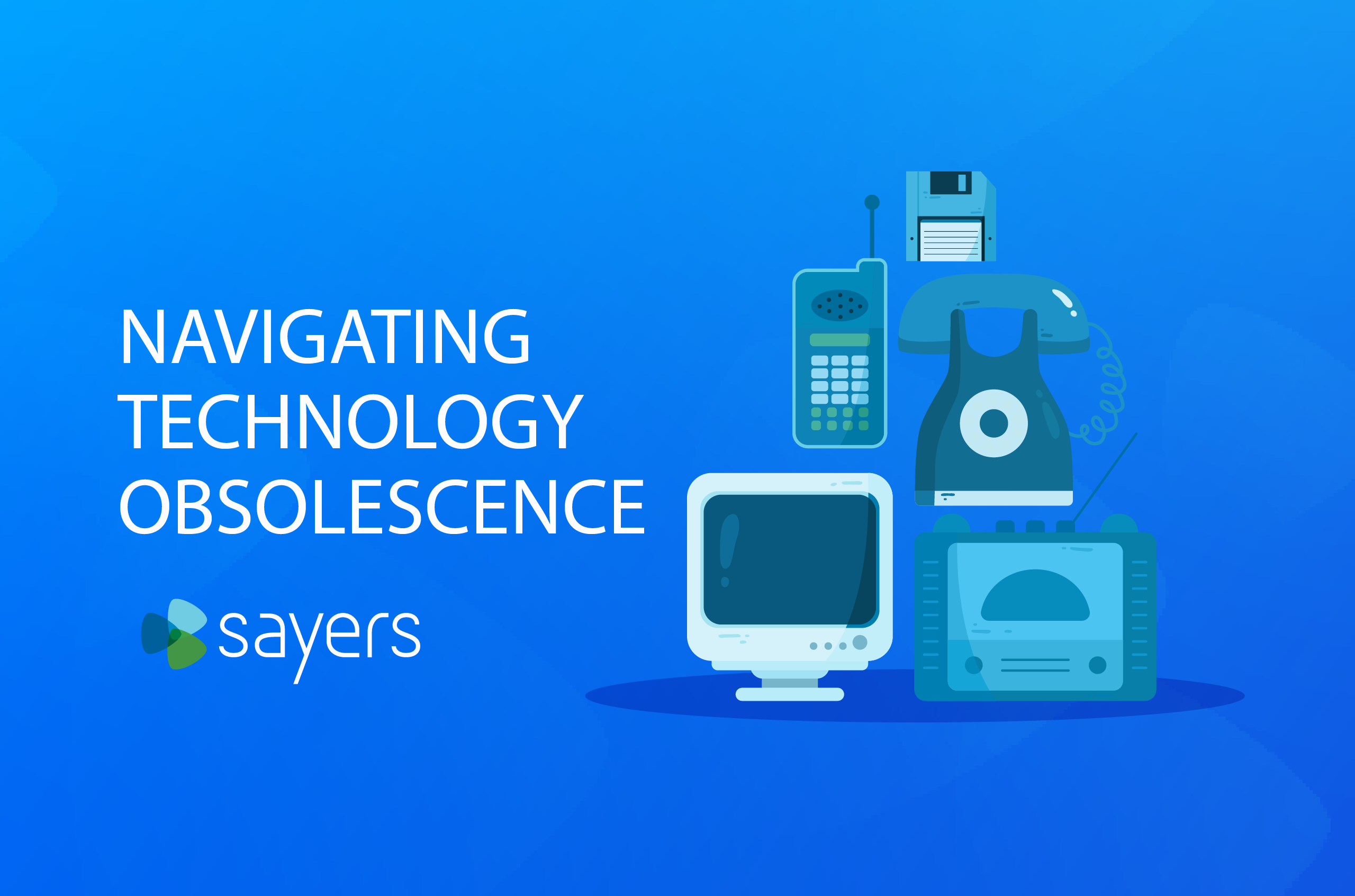 As technological advances continue to evolve, many enterprise organizations are faced with the challenge of technology obsolescence and technology debt. These concerns, which can hinder growth and innovation, have gained significant attention. However, awareness alone does not guarantee preparedness. The importance of resilience can't be overstated, especially given that a recent survey conducted by Beazley revealed that technological obsolescence poses a consistent and grave risk to firms. As organizations brace for the future, Sayers can assist with minimizing this risk.
Understanding Technological Obsolescence and Debt
Technology Obsolescence: Technology obsolescence is a term that signifies the reality of technologies swiftly becoming outdated due to the relentless evolution of innovation. Technologies once considered groundbreaking can quickly become irrelevant, posing challenges like increased maintenance costs and cybersecurity vulnerabilities; especially for those systems that are no longer supported. In addition to disruption or diminished user experience by not leveraging modern technology.
Technology Debt: Like financial debt, technology debt accumulates when businesses postpone necessary technological upgrades. This accumulation negatively affects agility and innovation, similar to how outdated systems slow down a business's progress.  Organizations need to continue to invest in the evolution of their business, especially technically (software, hardware, security, application development/consumption, automation, cloud, AI, and more.)  
Sayers Can Guide Enterprises Amidst Technological Turbulence
Amidst the uncertainties of technological obsolescence and debt, Sayers can offer assistance.
1. Performing comprehensive assessments to identify areas of vulnerability and obsolete technologies within the existing infrastructure. 
2. Business collaboration to create tailored strategies, architectures and solutions that align technology decisions with long-term business objectives.
3. Sayers offers expert consulting and solutions that enable businesses to upgrade legacy systems, integrate new technologies, and navigate the evolving landscape with resilience. 
4. Sayers can perform a tool rationalization assessment to understand technical gaps, deficiencies, overlap and maturity concerns. 
Rapid Obsolescence within the AI Context
Rapid Obsolescence is already being felt in the domain of AI. AI technologies, models, and algorithms evolve extremely fast, making once cutting-edge solutions obsolete in a remarkably short time. This presents a significant challenge, as businesses strike to leverage AI's potential while remaining adaptable to its rapid evolution. Sayers, with our strategic and experienced AI partners, can provide real-time insights into the latest advancements, helping enterprises stay ahead of the curve. By offering knowledgeable expert consulting on emerging AI technologies, Sayers can help empower organizations to make informed decisions, enabling them to trust AI's transformative potential, while minimizing the risks of rapid obsolescence.
Equipping for a Resilient Future
Due to the aggressive nature of new technological advancements, organizations must adapt to the realities of obsolescence and debt. The introduction of Rapid Obsolescence, especially within the AI domain, amplifies these challenges. Sayers emerges as an indispensable partner, helping organizations confront these challenges head-on. By conducting assessments, designing tailored strategies, and offering expert guidance, Sayers can help empower organizations to thrive in the face of obsolescence and debt accumulation. Amidst the shifting tides of technology, businesses equipped with the insights and strategies provided by Sayers can confidently navigate the path to resilience and future success.
Contact us for more information about Sayers and our services.