How to Measure Technology Resilience
Posted August 27, 2021 by Sayers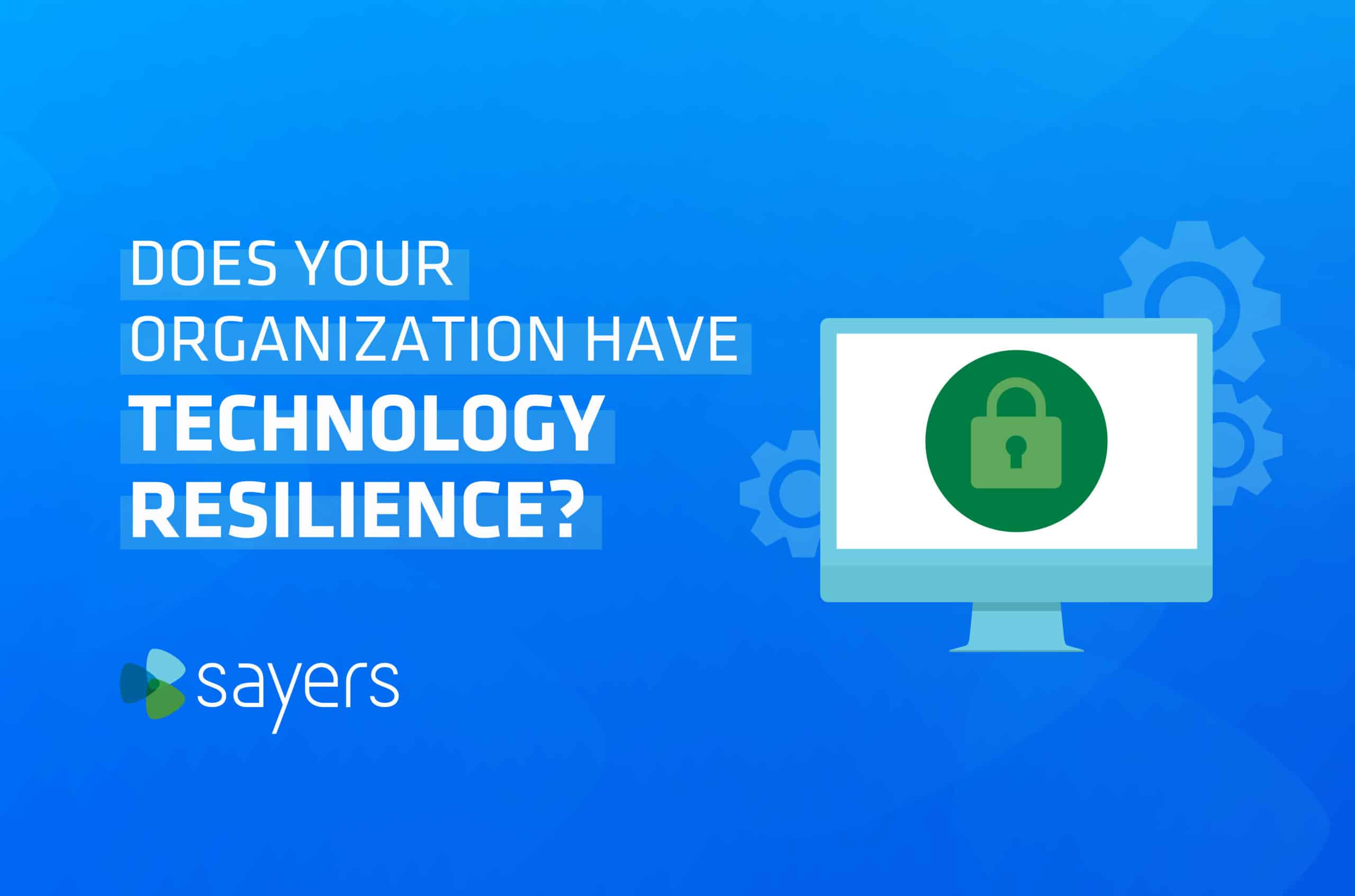 You already know your organization needs to be more resilient with each passing day, breaking headlines, and trending tweets. Your IT team in particular has to deliver technology resilience, not only to your internal organization but also to all your customers.
Measuring the resilience of your organization doesn't have to be a complicated framework you pay a consultant to customize for you. Instead, you can easily modify and apply Maslow's hierarchy of needs as a simple model to assess your organization's resiliency. Then use it to prioritize where to invest so you can build your organization's ability to adapt and respond in the face of disruption.
But first, consider these eye-opening predictions from former Cisco CEO John Chambers, which he delivered to business leaders at HPE Discover 2020:
"…40% to 50% of the Fortune 500 will not exist in a decade. …And these terrible events we're now seeing will actually accelerate that. Probably 60% of the startups won't exist in a decade, and a number of them won't exist in two to three years."
Chambers' comments followed Microsoft CEO Satya Nadella's earlier observation in 2020 that two years' worth of digital transformation took place in two months. We're only accelerating from there.
How to Define Resilience
Now is the time for resiliency, and the topic continues to top the list of initiatives from analysts and surveys across the board. In their recent research paper, "Predicts 2021: Organizational Resilience," Gartner says by 2025, 70% of CEOs will mandate a culture of organizational resilience to survive – coinciding with threats from pandemics, cybercrime, severe weather, political instabilities, and other events.
For a general definition of resilience, this one from Merriam-Webster works:
Resilience is the ability to recover from or adjust easily to misfortune or change.
At the IDC Directions 2021 conference, IDC more specifically defined business resilience as:
The ability to rapidly respond to business disruption and restore business operations in a timely fashion.
We can drill down even further and define information technology resilience as:
An organization's ability to adapt and accelerate business objectives through and beyond disruptions to its critical technology, personnel, processes, and systems that support them.
Measuring Resilience with Maslow's Hierarchy of Needs
To measure the ability to "adapt and accelerate," consider Maslow's hierarchy of needs, introduced in the 1940s and still relevant today.

Maslow's model uses five tiers to present categories of needs that motivate people, specifically the basic needs of physiology and safety; the psychological needs of love, belonging, and esteem; and the self-fulfillment needs that lead to self-actualization, or achieving one's full potential.

Now, simply apply that hierarchy to the three areas every organization requires to be effective: people, process, and technology. By exploring each of these areas against Maslow's model, you can better understand where to prioritize your investments to become a more resilient organization.
Information Technology Hierarchy of Resilience
Use the needs and questions provided here as examples and prompts for discussion within your IT organization. We encourage you to customize this model and consider other needs in these categories that are important to you and your organizational objectives.
In the area of People:
Physiological Needs: Does your IT organization provide competitive compensation? Do you have enough people with the right skills to do what needs to be done? Do you need to outsource and bring in vendors to ensure you deliver on all your IT objectives?
Safety: Consider the health and wellbeing of your employees. Are they dealing with burnout, and are you offering the health and wellness benefits they need? What are your retention rates and how do they compare with other companies in your industry?
Love and Belonging: What is your work culture like? Does your organization support the work/life balance needs of its people? Are you offering the training and development opportunities that will keep your employees future-ready? Are your people able to stay connected from wherever they work?
Esteem: Building on the attributes of your work culture, do your people feel respected? Are they given what they need to continuously improve, and are improvements celebrated? Do team members respond to each other as well as to customers?
Self-Actualization: Is your IT organization enabling the full potential of its people? Is there true awareness of the organization's strengths and areas for development, at all levels?
Turning to the area of Process within your IT organization:
Physiological Needs: At this core level, you want to be sure your processes are documented and enable your organization to meet operational standards.
Safety: Do your processes ensure your physical and digital assets are secure? Do you have a succession plan in place for continuity in organizational leadership?
Love and Belonging: Is your organization optimized, defined, and responsive from a process perspective?
Esteem: Do your processes enable your organization to be proactive and agile? Do you have back-ups in place for built-in redundancy, and do your processes allow continuous improvement?
Self-Actualization: Does your organization use automation to reach its full operational potential? Have you reached complete alignment of processes and resources?
In the area of Technology, consider:
Physiological Needs: Do you have the connectivity, basic IT infrastructure, and business applications in place for your organization to function properly?
Safety: Evaluate the cybersecurity technologies you have in place, the stability of your applications and infrastructure, and the degree of recoverability for business continuity.
Love and Belonging: Does your technology enable your teams to be productive and collaborative anywhere? How integrated and scalable are your IT technologies?
Esteem: Does your technology differentiate your organization compared to others? How dynamic and modern is it?
Self-Actualization: Has your IT organization reached its full potential, as well as enabled the broader organization to reach theirs? Is it considered cutting edge, and what role does AI play?
Conclusion
For each of those three areas – people, process, and technology – measure your organization against those hierarchies on a scale of 1 to 5. Use this exercise to identify: 1) where your is organization strong, with its needs being met, and 2) opportunities to develop people, simplify processes, mitigate risk, and build strengths through investments in your organization. Transformation isn't optional. By balancing and prioritizing your people, process, and technology investments around these hierarchies of needs, you can build resilience within your organization. Want to know more? Contact us at Sayers today. We help our clients increase their resilience through innovative technology and customized IT solutions.
Doug Close, Senior Vice President of Solutions at Sayers
For nearly 20 years, Close has grown the Sayers technology portfolio, leading several of our engineering teams. Currently, he leads the solutions engineering and architecture team across all technologies including cybersecurity, networking, and infrastructure.
Additional Resources:
The Year of Technology Resilience. 15-minute presentation by Doug Close, SVP of Solutions at Sayers, from the Sayers #Curio Virtual Tech Summit. Available free on demand.