Cybersecurity Fundamentals: 5 Key Ways to Keep Hackers Out
Posted October 9, 2020 by Sayers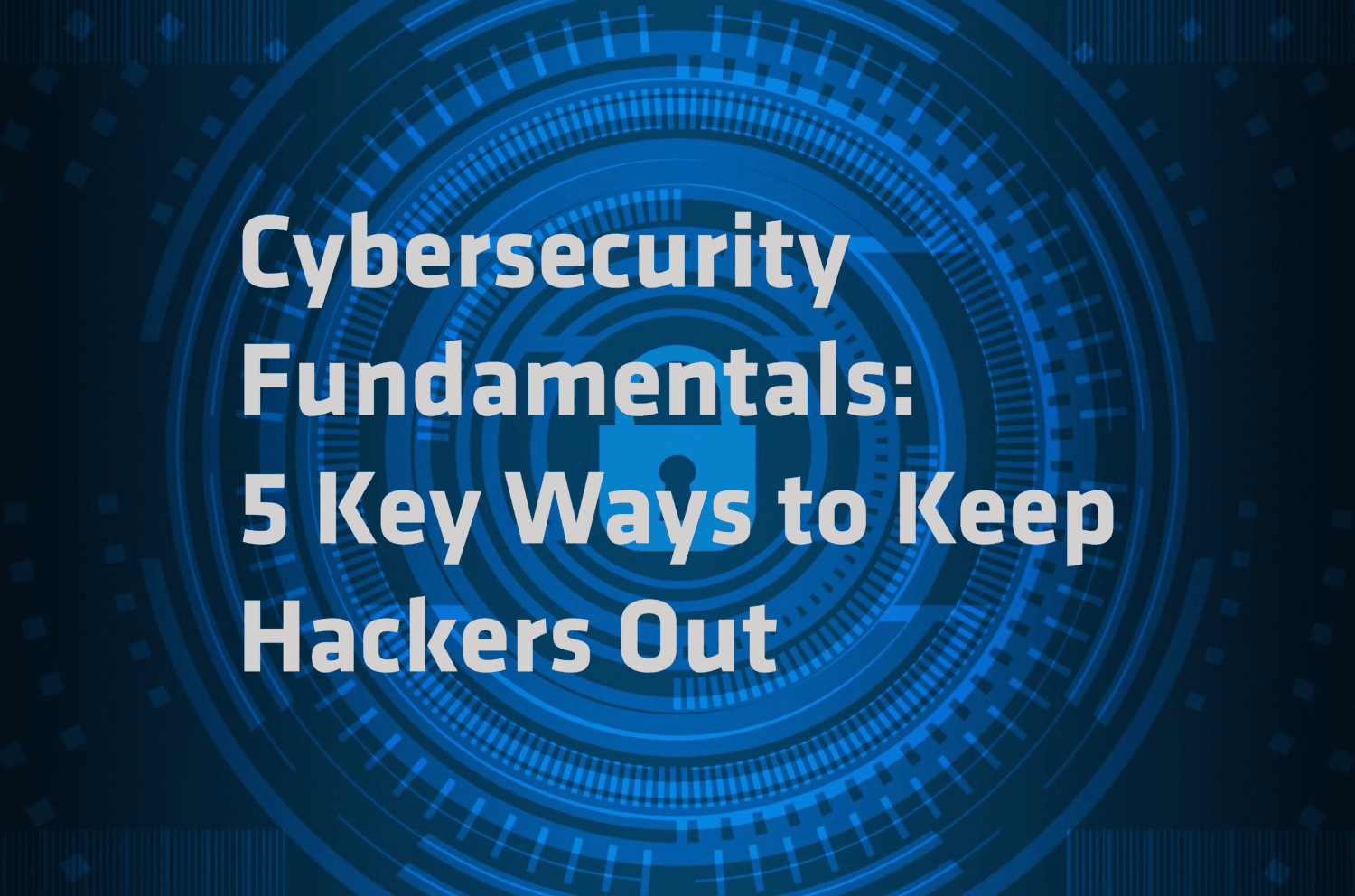 With all the changes to organizational work-life and the increasing exposure to risks, you can never be too careful with your cybersecurity processes. When it comes to keeping your data and sensitive information safe, a reminder of some security fundamentals for risk mitigation is always in order as we can sometimes lose site of the little things. While there are many different tactics businesses can use to ensure security, these are five foundational processes that all companies should be reminded of to help keep hackers out.
Train Your Employees on Best Practices
According to recent reports, human error is a contributing factor to roughly 95% of cybersecurity-related incidents. We are all human, and we all make mistakes. But that doesn't mean that we have to accept that cyberattacks from human error are inevitable. Businesses still need to put in place systems that work towards educating their employees on security best practices.
For example, everyone throughout the company that works with sensitive data and other important information that needs to be kept secure should be briefed on how to properly deal with the common tactics that hackers use. This includes phishing emails and not responding to them and alerting IT, connecting only to secure WI-FI networks when online, and avoiding clicking on pop-ups.
Training in new employees is especially important, as they may not have experience working with sensitive data from their previous roles. However, all employees can benefit from being reminded of how to be safe with the company's data through yearly cybersecurity training seminars. For insight into how to thoroughly train employees on cybersecurity, check out this helpful article. Remember, you can never be too careful when it comes to keeping your employees up to date on cybersecurity best practices.
Keep Your Systems Fresh with the Latest Updates
It's time to stop putting off updates by continuously hitting the "remind me tomorrow" option. It usually doesn't take very long, and it is a critical part of ensuring that your network is in tip-top shape and ready to handle any would-be data thieves.
Sure, it can be a bit tedious and even a little frustrating for the more comprehensive system updates, but they are necessary to maintain the integrity of the entire network. It's simply not realistic to expect that you can purchase security software and install it and simply be done with it. Improvements are always being made through updates, and you need to make sure you take advantage of them.
While the occasional update to software and hardware will be a bit of an investment at times, it is well worth the expense. Consider the penalties for not updating your hardware and software. A data breach will not only cost you money in damages, but your customers, clients, or patients may take their business elsewhere, and your brand image will take time to rebound. So, make sure to be proactive with annual system updates.
Utilize Multi-Factor Authentication
Multi-factor authentication is one of the simpler security strategies a business can employ, yet it is extremely effective against cyber attacks. When companies opt for simple password-only logins, they are making it extremely easy for someone to break into the network—whether through a phishing scam or a hack. But, by utilizing multi-factor authentication for accessing your network and applications, you can make it much more difficult for would-be hackers to gain unauthorized access. Aside from the occasional times when someone forgets their Mother's maiden name or the name of their first pet and needs to reach out to IT to reset their questions, it won't harm productivity or waste any time.
In addition, depending on what industry you're in and your type of business, multi-factor authentication may be required in order to meet compliance. That being said, even if your industry doesn't require multi-factor authentication, you should still do it. Just like updating your systems, it may cost an initial investment up front, but it's well worth it in the long run, as you can rest assured that you're doing everything you can to prevent cyber attacks.
Run Gap Analyses and Security Audits Regularly
Being able to proactively identify any potential security risk prior to someone exploiting it is obviously one of the best ways to reduce the possibility of a cyber attack. This can be difficult from the perspective of an employee or manager. From your point of view, you may look like you have all your bases covered. However, that may not always be the case. For this reason, a gap analysis is recommended, which will be able to identify any holes in your security much easier.
A gap analysis is perhaps one of the most crucial exercises a company can undergo to protect their business data from data breaches. Essentially, running a gap analysis will help you better understand your current state of information security and how it compares to the ideal state. Specifically, it will point out which areas can be improved upon. When you can figure out where your security is most vulnerable to cyber attacks, you can better create a plan to prevent one from occurring.
The best way to conduct a gap analysis is to work with an outside team that has the capabilities to do one right and then lead you down the right path to achieving ideal security processes and policies. This leads us to our final key…
Work with a Cybersecurity Services Provider
With an increasing scarcity of experienced cybersecurity engineering experts, it's always recommended to familiarize yourself with outsourced partners that can help support your business objectives. A solid cybersecurity strategy may require additional expertise and aligning your internal IT with third-party specialist provides on-demand resources that can help assess, design, deploy, and manage your cybersecurity initiatives.