Sayers Defense in Depth Security-as-a-Service Suite Expansion
Posted May 18, 2020 by Sayers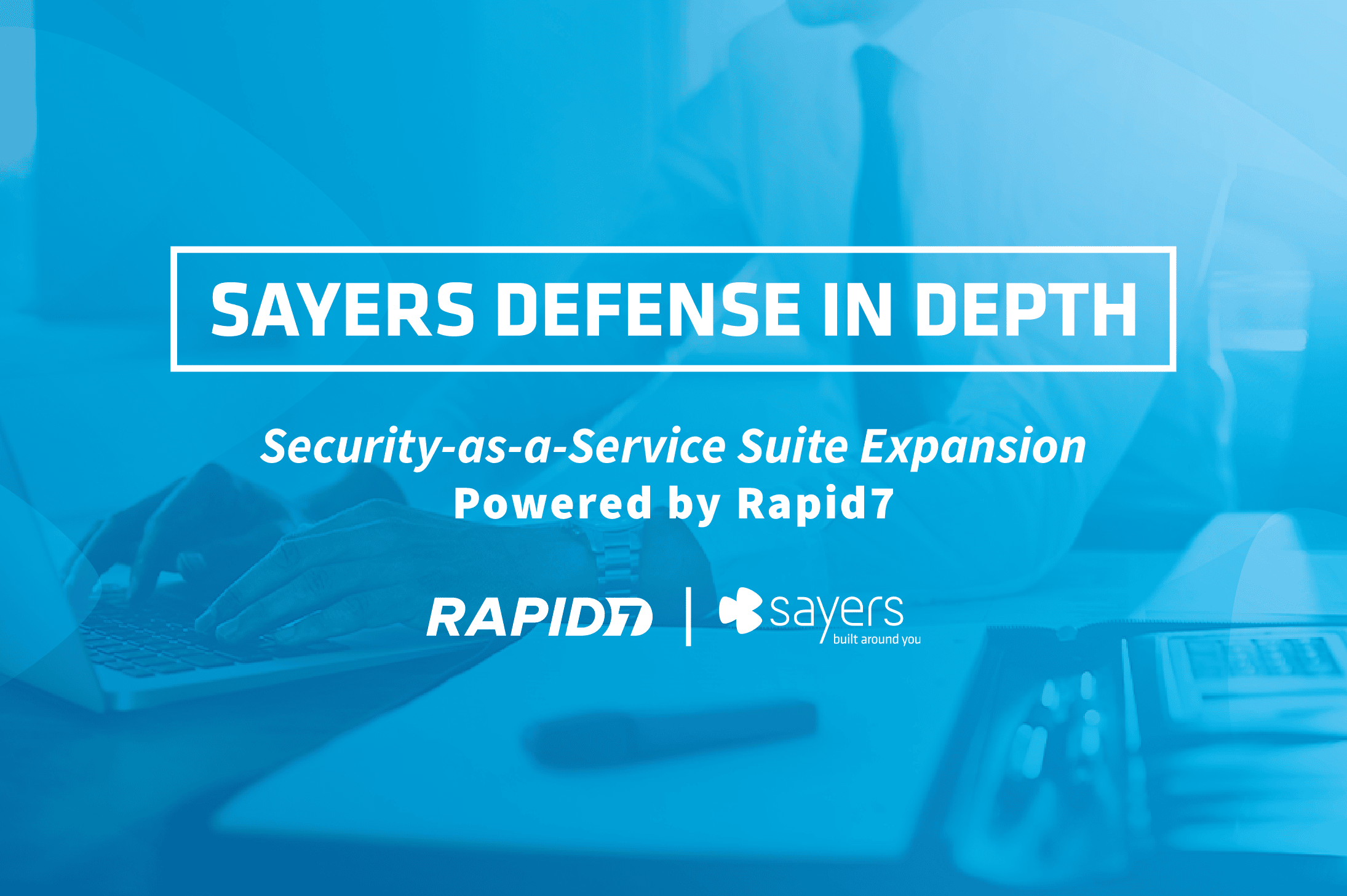 A White Glove Approach to Managed Detection and Response
Sayers Technology Services, LLC has partnered with Rapid7, a leading provider of security analytics and automation, to add Managed Detection and Response (MDR) to the Sayers' Defense in Depth Security-as-a-Service Suite.
Rapid7's MDR solution
The Sayers MDR offering, powered by Rapid7, focuses on helping to support security teams to strengthen and advance their current security program through a multi-layered approach across People, Process and Technology. This unique MDR solution has been designed to integrate a cost-effective, white glove level of service into corporations seeking to enhance their security maturity at a rapid pace.  
"Our number one goal is to mitigate cybersecurity risks for our clients. Rapid7's MDR solution integrated with Sayers engineering services will exponentially mature our client's cybersecurity programs," says Doug Close, SVP of Cybersecurity at Sayers Technology Services, LLC 
"Security and IT teams are often under resourced and increasingly spread thin with no time to specialize," says Alex Page, Director, Incident Detection and Response, at Rapid7. "However, specialization is required to combat advanced attacks from motivated adversaries. This is why offering MDR is so valuable for Sayers customers and we look forward to helping them benefit from our advanced threat detection and incident response capabilities."
Features and Benefits of Sayers MDR Service, powered by Rapid7:
Dedicated Client Advisor
24×7 SOC Monitoring by Expert Analysts
Real-time Incident Validation
Threat Intelligence Infrastructure
Proactive Threat Hunting
Full Access to Cloud SEIM
Behavior Analytics Detections
Incident Management and Response Support 
Simplify Regulatory Compliance
Unlimited Event Source and Data Ingestion
To learn more about the Sayers Defense in Depth Security-as-a-Service Suite, please visit https://info.sayers.com/mdr.
About Sayers 
Sayers creates personalized IT solutions designed to meet the needs of your business and the dedication to go above and beyond to provide you with unwavering support. 
About Rapid7
Rapid7 (Nasdaq: RPD) is advancing security with visibility, analytics, and automation delivered through our Insight cloud. Our solutions simplify the complex, allowing security teams to work more effectively with IT and development to reduce vulnerabilities, monitor for malicious behavior, shut down attacks, and automate routine tasks. 8,400 customers rely on Rapid7 technology, services, and research to improve security outcomes and securely advance their organizations. For more information, visit our website, check out our blog, or follow us on Twitter.